Research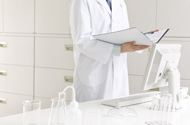 Cooperatively with industry, academia and government, RITE has been working on development of the advanced technologies to reduce greenhouse gas emission as a key challenge to global climate change. At our headquarters in Kyoto, four research groups composed by experts in various fields have been proceeding with their leading-edge researches.
CO2 Capture
Green Process
(Chemical Research Group)
Absorption, Adsorption, membrane separation, and other technology have been developed to reduce CO2 capture cost for coal-fired power plants, steel works, etc. Moreover, RITE aims at the development of the chemical process for less CO2 discharge, i.e. green process.
CO2 Storage
(CO2 Storage Research Group)
As a possible technological option for reducing CO2 emissions from coal-fired power plants, R&D of CO2 storage in the deep saline aquifer is being conducted.