Research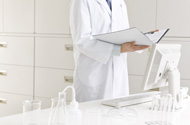 Cooperatively with industry, academia and government, RITE has been working on development of the advanced technologies to reduce greenhouse gas emission as a key challenge to global climate change. At our headquarters in Kyoto, four research groups and a research center composed by experts in various fields have been proceeding with their leading-edge researches.
Assessment of Global Warming Mitigation
(Systems Analysis Group)
The Systems Analysis Group conducts systematic research regarding policies and measures to mitigate global warming and examinations on the whole system and on scenario development. Also, we make a comprehensive evaluation including synergies and trade-offs between global warming mitigation and sustainable development, and examines more effective measures.



Biorefinery
(Molecular Microbiology and Biotechnology Group)
Bioeconomy, a fusion between biotechnology-based industry and recycling-oriented society, is gaining traction as one key strategies to manifest the Sustainable Development Goals (SDGs) adopted by the United Nations. This concept aims to answer global issues while coexisting together with economic development. Correspondingly, our group is developing one of the bioeconomy core technology: biorefinery.
CO2 Capture
Green Process
(Chemical Research Group)
The first mission of Chemical Research Group is to develop advanced technologies to reduce the cost of carbon dioxide (CO2) capture that accounts for 60 % of the total cost of CCS. To achieve this, we have been actively working on the development of absorbents (chemical solvents), solid sorbents and membranes.
CO2 Storage
(CO2 Storage Research Group)
Toward the deployment of CCS technology, the CO2 Storage Research Group conducts research on safe and stable CO2 geological storage in deep saline aquifers for a long term and works closely with international organizations.
Inorganic Membranes
(Inorganic Membranes Research Center)
Inorganic Membranes Research Center promotes research and development of inorganic separation membranes and membrane reactors applicable to CO2 utilization technology, low-cost hydrogen production technology, etc., and also promotes the various initiatives toward industrialization of inorganic separation membranes in cooperation with manufacturers and user companies.