Greeting from the President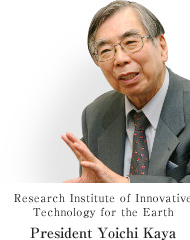 The Research Institute of Innovative Technology for the Earth (RITE) was established as a center of excellence to work internationally toward developing innovative environmental technologies based on the Earth Regeneration Plan "the New Earth 21" compiled by the Japanese Government in 1990. Since then, we have been carrying out R&D activities particularly for the mitigation of global warming, including R&D on carbon dioxide capture and storage、biorefinery technologies and scenario studies on the paths for mitigating global warming. Thanks to these distinctive world-leading research activities of ours, we have become a internationally well known institute specialized in technologies for mitigating global warming.
In pursuit of the more efficient development of these promising technologies to tackle global warming, we have built and expanded research partnerships with a wide range of international research organizations in the same area to date.
To those who have given us all their cooperation and supports to accelerate our research, we would like to express our deep gratitude. We believe that we could not have been doing the activities without their help.
Today, long term response to global warming is being seriously discussed at an international level and are being emphasized as the most pressing matters to be tackled in close cooperation among nations. With such world-wide recognition growing, we believe that we really need the development of breakthrough technologies and RITE aims to play a vital role to work it out.
In parallel with taking our ongoing projects forward steadily, RITE is currently planning to launch new flagship projects on emerging innovative technologies such as reformation of industrial production processes for substantial improvement of energy efficiency and renewable energy for the realization of a low-carbon society. With those technologies of great promise, we believe that RITE will be able to make a substantial contribution to the prosperity of humankind, meeting one of our objectives: to make our developed technologies available widely in industries. We will continue to strive hard for further advancement of industrial technologies for the preservation of the global environment for the future with the efforts of all talented researchers and officials at RITE.
Finally, we would like to ask for your inspiring advice and continued cooperation for our future activities.