FY2019 ALPS International Symposium - Long-term climate strategy toward carbon neutrality -
FY2019 ALPS International Symposium - Long-term climate strategy toward carbon neutrality -


FY2019 ALPS International Symposium was held with 318 participants from public offices, universities, research institutes, companies, and other organizations.
RITE has been conducting a research project, shortly named as ALPS (ALternative Pathways toward Sustainable development and climate stabilization), as a subsidy project/entrusted project sponsored by the Ministry of Economy, Trade and Industry (METI), Japan. This research project aims at contribution to planning of the international framework and strategy for green growth, and also is investigating long-term responses to climate change risks. Additionally, our comprehensive research includes analyses of future low energy demand scenarios with potential social changes to be induced by recent development of IoT and sharing economy, which may reduce energy demand without sacrificing utility levels. The research is being conducted in cooperation with globally distinguished research institutes in the field of global warming including IIASA (International Institute for Applied Systems Analysis) in Austria, RFF (Resources for the Future) in the U.S. and IEA (International Energy Agency).
The Paris Agreement was adopted at the 21st Conference of Parties (COP21) of UNFCCC in December 2015, and entered into force in November 2016. The new international framework was established, in which almost all nations engage in emission reduction of greenhouse gas by submitting their emission reduction targets beyond 2020 as the nationally determined contributions (NDCs).
The demanding voice and movement to strengthen the climate change mitigation and to early realize a decarbonized society are internationally getting louder and stronger, and the strong request for that was made by various sides at the COP 25 held in December 2019. Meanwhile, Japan submitted "Long-term Low Emission Development Strategy" to the United Nations in June 2019, aiming at the long-term development based on low GHG emissions, and formulated and announced "Progressive Environment Innovation Strategy" to realize low mitigation costs necessary for social implementation through creating disruptive innovation in January 2020. Along with them, discussion on long-term climate measures and green growth beyond 2050 is becoming active domestically and internationally.
Under various risks of climate change, recognizing the demand toward carbon neutrality from both inside and outside of Japan, FY2019 ALPS International Symposium was held to focus on "Long-term climate strategy toward carbon neutrality" and also disseminate the research achievements of the project. In this symposium, eminent specialists from The World in 2050 (TWI2050), Asian Institute of Technology, University College London, University of Maryland, RFF-CMCC European Institute on Economics and the Environment (EIEE) in this field were invited from abroad to present lectures, and also speakers from TEPCO Power Grid, Inc., , Tokyo Gas Co., Ltd., JFE Steel Corporation were invited from companies engaging in global warming mitigation to introduce their activities and perspectives toward near-term low-carbonization and long-term de-carbonization. It was valuable opportunity for many people from various areas to take this opportunity to consider by themselves action plans, measures and policies necessary for suppressing global warming, aiming at long term de-carbonization, and realizing a sustainable world.
Overview
Date/Time

February 13th, 2020 / 10:00~17:40

Venue

Toranomon Hills Forum Main Hall (Tokyo)

Organizer

Research Institute of Innovative Technology for the Earth(RITE)

Co-organizer

Ministry of Economy, Trade and Industry(METI)

Number of participants

318 participants

Language(s)

Japanese/English (Simultaneous translation)
Program
To download the presentation materials, click the following program title.
10:00
Welcome Remarks
Yoichi Kaya, President, RITE
10:05
Introductory Remarks
Tomoyoshi Yahagi, Deputy Director-General for Environmental Affairs, Ministry of Economy, Trade and Industry (METI)
10:10
"Carbon Neutral Society: Vision and Scenarios"(pdf file 2,543KB)
Kenji Yamaji, Senior Vice President/Director-General, RITE
10:40
"Strategies for achieving carbon neutrality by mid-century and their multiple co-benefits" (pdf file 6,686KB)
Nebojsa Nakicenovic, Director, The World in 2050 (TWI2050)
11:15

"Fast growing countries: energy demand, technology and social change"(pdf file 4,730KB)
Joyashree Roy, Bangabandhu Chair Professor, Asian Institute of Technology, Thailand and Professor of Economics, Coordinator Global Change Programme, Jadavpur University (on lien). Kolkata. India.

11:50
Lunch
13:15

[Panel discussion]
Industries' activities and visions toward a low-carbon society, and further a decarbonized society

Moderator:
- Keigo Akimoto, Group Leader, Systems Analysis Group, RITE

Panelist:
- Hiroshi Okamoto, Executive Vice President, TEPCO Power Grid, Inc.
"Vision of the energy industry toward a decarbonized society"(pdf file 1,650KB)


- Takashi Anamizu, Representative Director, Executive Vice President, Tokyo Gas Co., Ltd.
"Compass2030 and Activities toward decarbonized society"(pdf file 3,161KB)


- Hiroyuki Tezuka, Fellow and General Manager, Climate Change Policy Group, Technology Planning Dept., JFE Steel Corporation

"JISF Long-term vision for climate change mitigation"(pdf file 1,979KB)

14:55
Coffee Break
15:15
"The '3 domain' economics of energy transition: the 3-pillar approach, the UK experience, and some global implications"(pdf file 3,332KB)
Michael Grubb, Professor of Energy and Climate Change, University College London
15:50
"The Implications of City, State, and Business Climate Leadership in the United States"(pdf file 3,119KB)
Leon Clarke, Research Professor, University of Maryland
16:25
"Innovating our way to net-zero: Research and Innovation (R&I) pathways for the energy transition"(pdf file 2,728KB)
Elena Verdolini, Senior Researcher, RFF-CMCC European Institute on Economics and the Environment (EIEE)
17:00
"Transformation of energy systems for carbon neutrality and the role of innovation" (pdf file 3,178KB)
Keigo Akimoto, Group Leader, Systems Analysis Group, RITE
17:35
Closing Remarks
Takashi Honjo, Senior Managing Director, RITE

MC
Mayumi Matsumoto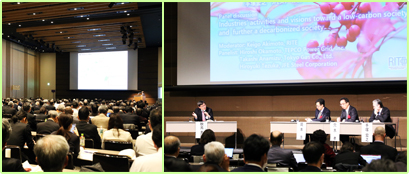 Contact
Research Institute of Innovative Technology for the Earth(RITE)
Systems Analysis Group
9-2, Kizugawadai, Kizugawa-Shi, Kyoto, 619-0292
TEL: 0774-75-2304
E-mail: sysinfo@rite.or.jp
| Events |