Summary
In 2005, the Kyoto protocol came into effect with the goal of curbing atmospheric carbon dioxide levels. Innovative technologies are now more than ever urgently needed for aggressively addressing global warming issues, particularly via carbon dioxide emission reduction.

The various scientific seminars held at the Symposium demonstrated that the development of commercial technologies to address the need to reduce CO2, have made steady progress in recent years, mainly at the level of the Japanese industrial sector. Moreover, the industrial concept "Biorefinery" is now actively explored worldwide for accelerating carbon recycling using biomass as a new global warming mitigation paradigm. In addition, carbon dioxide capture and storage (CCS) at point of emission, and notably at power stations, is increasingly being commercialized on an international scale.

In this Symposium, the newest approaches to industrial R&D, "Biorefinery", and CCS were introduced by the foremost researchers in the world. Delegates who gathered at the venue and openly exchanged their opinions and ideas, included numerous representatives, not only from domestic industrial, governmental, and academic sectors, but also from several foreign embassies, thus paving the way for successful multi-level interactions and collaborations.

Presentations (all rights reserved)
Keynote speech

Energy growth and climate change: the next fifty years and beyond
Mark Levine
Division Director, Environmental Energy Technologies
Lawrence Berkeley National Laboratory

Keywords: Economic growth and energy consumption, Improvement of the energy efficiency in China, Future issues about oil supply, Effect of climate change, Solution to the energy problems


Japanese industrial technologies for GHG reduction

Toyota's challenge for energy efficiency improvement in automobiles
Shigeo Furuno
General Manager, Power Train Engineering Division 2
Toyota Motor Corporation

Keywords: Automotive technologies and CO2 reduction, Internal combustion engine, Alternative fuels, Fuel cell, Weight saving, Hybrid system, Hybrid technology, Improvement of Traffic Situations (ITS etc.)


Challenges for GHG reduction in steel industry
Toru Ono
Senior Manager of Technical Administration and Planning Division
Group Leader of Energy Technical Planning
Nippon Steel Corporation

Keywords: Voluntary Action Plan, Energy-Saving Technologies, Utilization of Waste Materials, Challenges for the Future, International Collaborations
"Biorefinery" as technology for global warming mitigation

Biofuel technologies in the United States
F. Blaine Metting
Manager, Biological & Environmental Sciences
Fundamental Science Directorate
Battelle, Pacific Northwest National Laboratory

Keywords: U.S. biofuels goal and current activities, Key issues for the cost reduction of bioethanol production and the importance of cellulose utilization


Biofuel technologies of RITE
Hideaki Yukawa
Chief Researcher, Research Institute of Innovative Technology for the Earth

Keywords: Technical barriers of ethanol production from cellulose, Application of RITE strain to ethanol production from cellulose, Overview of biofuel R&D by RITE, Development of butanol production process


CO2 geological storage
European perspective on CCS through Norwegian commercial projects
Olav Kaarstad
CO2-issues Manager, Statoil ASA

Keywords: Norway and Japan in the international discussion of climate change mitigation, The potential of CO2 geological storage and current activities, Statoil CCS projects, Economic efficiency of CCS


Japanese achievement in CO2 geological storage and future contribution
Takashi Ohsumi
Chief Researcher, Research Institute of Innovative Technology for the Earth

Keywords: Japanese history of the development of CO2 geological storage technologies, The achievements in Nagaoka project, The potential of aquifer storage in Japan, Recent discussions on the London convention and protocol
Closing speech

Japan's strategy for mitigating climate change
Yoichi Kaya
Director-General, Research Institute of Innovative Technology for the Earth

Keywords: Kyoto protocol target and current state of Japan, Effective utilization of energy, The role of nuclear energy, Key issues of renewable energy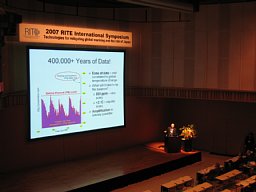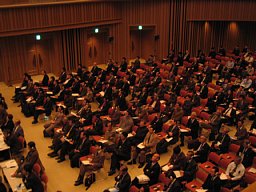 RITE TOP